This week, Year 1 have been super historians as we learned about and paid our respects to those that gave the ultimate sacrifice in The Great War.
To kick of our week or remembrance we welcomed Tom McConville and Tony Wilson to Year 1 and they delighted us by discussing the war through pictures and songs. It was a fantastic morning and we were all singing 'It's a Long Way to Tipperary' at the end of the week.
Our focus has been learning about the role of different animals in World War 1. We were amazed to learn just how brave the horses, pigeons and dogs were and how important they were to the soldiers.
Did you know a pigeon called Cher Ami managed to still get a message out to the troops even though she was shot in the eye, tummy and had her leg blown off! She saved lots of lives and received a medal!
We also researched a very special dog called Sergeant Stubby. He followed his friend Robert onto a ship and went off to war in France. He was so important in keeping up the morale of soldiers, chasing away the rats in the trenches and barking an alarm at the first smell of gas! He even bit some enemies on the bottom. We found out just how brave Sergeant Stubby really was and how many lives he saved, he certainly deserved all his medals.
Having found out about rationing and food in the war, Year 1 also made our own trench cake! We wrote recipes about how to make it and it tasty really yummy. It was a great treat for the soldiers in the trenches and it didn't go off easily which was good.
During comprehension we read 'Flanders Field.' We talked about how the poem made us feel and what message it is telling us. Look at the mature comment below!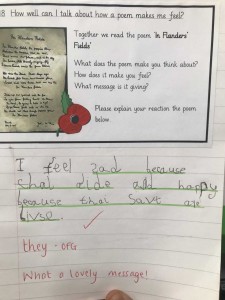 Look at the beautiful poppies we made too by collaging foil. You can see them on display in the small hall or at Trinity Church. We hope you get a chance to come and have a look at them and our some of our written work too.
We have had such a super week learning so many new facts and the teachers have been blown away by how thoughtful, reflective and mature the children have been. We hope they have been telling you all about it at home.