What does respect mean?
This is a question that has been asked up and down our school this week. From Early Years to Year 4, children have been talking it! We kicked off the week with Odd Socks Day on Monday which was a huge success. Awareness was raised about the importance and acceptance of difference. It is ok to be different, and it is good to celebrate what makes us unique! Year 1 enjoyed Andy's Odd Socks song and Reception enjoyed a range of sock based activities from hanging them up, to designing their own socks.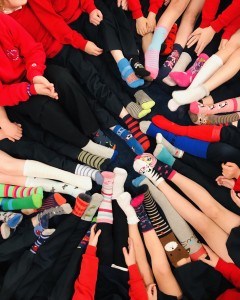 We are all different, and we should #ChooseRespect towards each other.
Year 4 have been discussing the importance of showing respect to everyone, regardless of beliefs, appearance, opinions or anything else. They all showed respect for others during their visit to the Hindu temple. Also, Reception began looking at their second No Outsiders book, 'Red Rockets and Rainbow Jelly', which focuses on difference. Reception were very lucky as they were able to try different fruits, and they respected each others different tastes and opinions.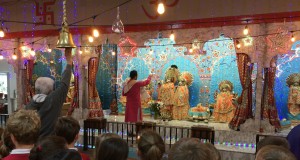 How can we #ChooseRespect?
Year 1 have been comparing kind and unkind friendships and they have had circle time to discuss the ways to #ChooseRespect with friends. Year 2 have watched a beautiful version of The Ugly Duckling, and following this, they discussed how the characters were feeling and acting towards each other. Another good subject that they talked about was making sure to #ChooseRespect by not judging someone based on how they look because friendships can be found everywhere! Year 3 have been discussing the importance of friendship and kindness, which has linked to their interesting work about Jesus in RE.  Year 4 demonstrated their understanding of how to #ChooseRespect by writing and performing scripted scenarios of respect in friendships and the community. Each performance was unique, different and a joy to watch.
Raising awareness for Anti-Bullying Week:
This week the school launched post boxes for all classes from Year 1 – Year 4. These boxes will allow children to communicate a range of information with teaching staff. If someone is feeling proud, worried or anything in between, and they need to let someone know, they can write it down and pop it in the post box because sometimes it can be tricky to talk about how we're feeling. Children – make sure to include your name, and to let your teachers know that you've completed one so that they can help you! We also carried out an in-school poster competition to design part of a poster to display in school to show that we #ChooseRespect at Archibald. It was a tricky task, but winners were chosen in KS1 and KS2, well done again William and Evan! The finished products will be displayed next week, so please keep your eyes peeled.
A huge thank you to all that have been involved in making this year's Anti-Bullying Week such a great success. Here at Archibald, we pride ourselves in the knowledge that we always strive to #ChooseRespect.
AntiBullyingWeek
,
ChooseRespect