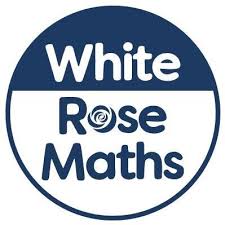 Maths
Welcome to the White Rose Summer Term Plans!
White Rose has been working closely with the BBC Bitesize Daily Maths team to make a clear learning plan for the summer term. They have set out a 12-week learning plan that means children can:
make sure they understand the main concepts they need for their work next year
cover any new learning that they have not yet have done in school
Please feel free to complete as many or as few of the suggested learning activities as you would like.
White Rose Maths Live Lessons The White Rose Maths Team has prepared a series of five brand new maths lessons for each year group. Every lesson comes with a short video showing you clearly and simply how to help your child to complete the activity successfully. https://whiterosemaths.com/homelearning/#MathsEveryoneCanAtHome
Corbett Maths
There are primary 5 a day Maths activities available at: https://corbettmaths.com/5-a-day/primary/