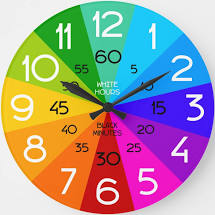 EYFS Suggested Timetable
For Early Years children, it is all about keeping their learning in play.
Young children are like sponges and absorb the things around them, such as looking at door numbers, counting steps, reading street signs etc.
We advise looking for opportunities in their everyday routines/activities to reinforce learning. 

For example…
Spelling tricky words as you walk.
Singing made up songs with rhyming words in as you drive in the car.
If your child likes playing with trains, look for simple maths opportunities –  you could talk about how many trains they have, what colour are the trains? How many more trains would you have if you added 2 at the station etc

For Nursery and Reception age children we suggest you should aim for…

10 minutes of reading (Reception reading a book to a grown-up or sharing a book and spotting words they can read or sounds they can identify. Nursery sharing a book with a grown-up talking about the pictures etc)

10 minutes phonic activities (looking at letter sounds together, a letter sound hunt, writing letter sounds or simple words. See recent Tapestry phonic observations added)

10 minutes Maths activities using the blog for ideas.

10 minutes linked to topic activities on the blog.